As first-time parents, we are often frighted by how little we know about parenting. However, one thing remains clear, we are trying our very best to assist Anton for his growing. During the past nine months and two weeks, there are so many things I know about now, I wish I knew it earlier. Good thing is, even the things which I would have done differently, when I really look back, I can look back with a smile
I have the below lines in italic saved as a draft from a few months back.
Anton's father read the theory of how to train Anton to go to bed every night at roughly the same time, to his own bed, without needing to drinking from me. Here is our practice:
Day I: First-day training started at 6:30 pm bath, around 7 pm Anton's father started to try to put him to bed. Of course, as we expected, Anton didn't like it and tried to protest. After 4 times of putting in and getting him out of his bed, Anton's father decided to use the carrying cloth. Anton fell to sleep within one minute after being carried. Our night started at 8:15 pm
Day II: After many times repeating of putting in and getting Anton out of the bed, Anton's father managed to leave Anton to fall sleep in his be at 8:10 pm
Day III: After repeating many times of putting in and getting Anton out of his bed by Anton's father, I took the task over, and I used his favourite art card as a fan to help to put him to sleep in his bed. He fell asleep at 8:05 pm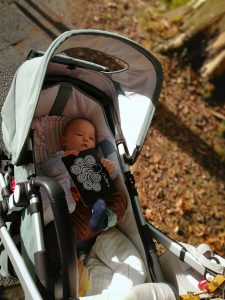 Day IV:  Saturday going out and coming home slightly later than 6 pm, Anton had his bath at 6:30 pm, and we repeated the same procedure, with stronger protesting from Anton. By the end, Anton became too tired and he fell asleep in his bed at 8:15 pm
Day V: Sunday, we started at 6:45 pm, experienced a few round, then I carried him, he fell asleep at 8:15 pm
Day VI: I missed his 4 pm nap. at 5 pm, he was hungry and tired. I managed to feed him some food, but he refused to drink milk. Anton fell asleep at 6 pm, too early. wake up at 6:50 pm, then we repeated 
The original post ended here. I do not even remember what happened on day VII, VIII. I think most likely, that plan didn't work out as pretty as the text explained.
Now the reality is that we have dinner at around 6 pm, then Anton's father changes Anton to pyjama,  then toothbrushing, bedtime story, milk drinking (most days), then Anton falls asleep in our big bed.
The conclusion I want to have here is: what matters the most for me is that, Anton is happy and sound, everything else, secondary.